Share Your Victoria Restaurant Recommendations Here
Share your Victoria dining recommendations with us and our readers!

We are actively seeking contributions from visitors to our site who are familiar with Victoria's dining locations, whether fine dining, fast food, or something in between. Won't you share your knowledge and experience of Victoria BC with us (and our other visitors)?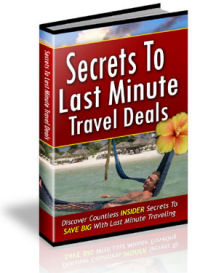 And to make it worth your while, we're even going to give you a free digital eBook just for participating! As you can see by the graphic to the left, it's about how to get last minute travel deals. It's 68 pages of valuable tips. And you get it free, just for filling out the short form below.
You see, I value your input and help in keeping the content on this site as up to date and complete as possible. So, thanks in advance for your contribution.
Ready to get started? Great! Let's go...
How to Participate
This section of our site is totally interactive. You simply fill in the short form below with your information... and we'll do the rest!
And hey... it's a way to get your name up in lights! Or at least to get your name on your very own Web page... that's right every recommendation or review gets its own page on our website.
So, won't you join us?
What We Need From You
As you can see below, the recommendation form is pretty loose... but it would be most helpful to future visitors to Victoria if you would try to include as much of the following information as you can:
Approximate location of the dining spot
Price range (expensive, moderate, inexpensive, etc.)
Quality of the surroundings(appearance, ambience, etc.)
Size of the dining area
Quality of the customer service & wait staff
Type of food
Special notes (reservations recommended or required, not a great place for kids, etc.)
Overall value for the price
These are just a few suggestions. Feel free to include anything you can think of that you believe would help others make a decision whether to eat there or not.
Know A Great Place to Eat
In Victoria?
Do you know of a wonderful place to eat while vacationing in Victoria? A place where the service was top notch and the food unbelievable? Share it!
What Victoria Restaurants
Other Visitors Have Recommended
Click below to see the Victoria restaurant recommedations from other visitors to this page...

Feel free to return to this page as often as you want to make additional Victoria dining recommendations. We welcome your contributions!


---
Top of Victoria Restaurant Recommendations page