Walking Tours in Victoria
When you opt for walking tours Victoria, you'll see many historical highlights...
Here are some of the spots in Victoria that you'll want to explore more fully...
Emily Carr House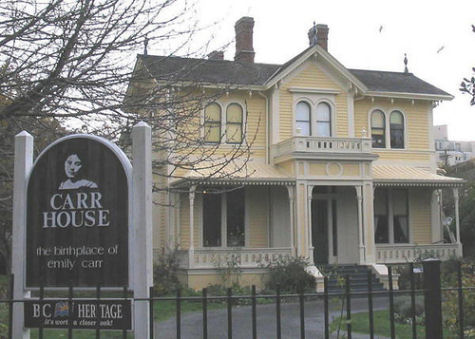 Photo courtesy of Tourism Victoria & Barry Behnke
Near the center of town, Emily Carr House offers its visitors a chance to peer into the life of Canada's first (and best known) independent artist and writer.
Emily was born in the Government Street house in 1871, only six months after British Columbia evolved from British colonial status to a province of the world's newest nation. She used her brushes and pens, throughout her lifetime, to show her pride in this part of Canada.
In the restored rooms of the 1864 house, you will enter into the same Victorian ambiance the Carr family knew in the 1870's. Upstairs are many of the family's actual possessions, including some of Emily's pottery and sculpture.
One room is now used as the People's Gallery to present the work of various Canadian artists. A small gift shop occupies the rear of the house and offers a remarkably varied selection of items produced by Victoria artists and potters.
Craigdarroch Castle
This 39-room castle features elaborate detail on the outside. Built of stone, stained glass, wrought iron and exquisite woods and it is still very well furnished.
With over 20,000 square feet of space, the house and gardens are restored exactly as they were originally built for coal magnate Robert Dunsmuir.
Dunsmuir died just one year short of its completion in 1890. Craigdarroch Castle is now a museum open for tours and special events.
Fort Rodd Hill and Fisgard Lighthouse
There is a lot to see at these two popular oceanfront heritage sites only a 15 minute drive from downtown Victoria.
Picturesque Fisgard Lighthouse offers colorful displays that tell of ships wrecked and lives saved.
At adjacent Fort Rodd Hill, visitors can explore gun batteries and underground magazines built a century ago as well as searchlight emplacements, command posts and much more.
Signs, audio and video stations and friendly, knowledgeable staff tell the stories of these national historic sites.
Photo courtesy of Tourism Victoria and Tony Austin
Point Elice House
Gold Rush Magistrate and Commissioner Peter O'Reilly acquired Point Ellice House in 1867 and many of Victoria's social elite gathered there. The flowers in the luxuriant heritage gardens surrounding this rambling home accurately reflect the family's own notes about their Victorian favorites.
The property is like a verdant jewel amid the industries and businesses along the Victoria waterfront .Overlooking the waters of Victoria's scenic Gorge Waterway, Point Ellice House is still where locals go to enjoy high tea.
Just as British Navy officers and other guests could do over a hundred years ago, you can still be dropped off at the dock. Travel over land or step aboard the Harbor Ferry in front of The Fairmont Empress Hotel and take a leisurely tour past Victoria's Olde Towne on your way to Point Ellice House.
Royal British Columbia Museum
The Royal British Columbia Museum is a place of discovery. Through three unique galleries, the museum showcases the human and natural history of British Columbia and features periodic exhibitions of international renown.
Highly realistic and inviting displays, such as the Ice Age and Coastal Forest dioramas, provide visitors with a sense of having truly experienced the authentic settings.
Check out this review of the Royal BC Museum
Royal Roads University
Royal Roads University was established on June 21 1995. In July 1996, Royal Roads University commenced offering its own degree programs as an innovative 21st century university.
The history of Royal Roads begins with James Dunsmuir (1851-1920), the coal and rail baron and Premier and Lieutenant-Governor of British Columbia during the first decade of the 1900's. In 1906, with a wish to establish an ancestral home, he purchased the Stuart estate, known as Hatley Park.
He commissioned Samuel Maclure, a well known Victoria architect, to design a castle, and Messrs. Brett and Hall, landscape artists from Boston, Massachusetts, to plan the grounds and gardens.
By 1909, the Castle was complete. Its impressive stone exterior was matched by a lavish interior, featuring oak and rosewood paneling, teak floors, a baronial fireplace, and hand-crafted pewter fixtures.
The Dunsmuirs lived at Hatley Castle until 1937 when James's widow Laura,and daughter Eleanor, died. At that time, the remaining family members resided either in California or London and so the estate was sold in its entirety to the federal government in November 1940, for the incredibly low price of $75,000.
Needed as a naval officer training establishment, HMCS Royal Roads (named after an offshore naval anchorage) was commissioned in December 1940 to train short-term reserve officers for service in World War II.
In October 1942, its focus was switched to the training of regular force naval cadets. In 1947, Royal Roads became the RCF - RCAF Joint Services College. The following year, with the admission of army cadets, it became the Canadian Services College Royal Roads.
This evolved into Royal Roads Military College (RRMC) in 1968. In February 1994, budgetary constraints compelled the Department of National Defence to announce the closure of Royal Roads Military College and in May 1995, RRMC graduated its final class of officer-cadets.
These are just a few of the wonderful places you'll discover on walking tours of Victoria!
---
Top of Walking Tours Victoria page