Royal BC Museum
by John
(Winnipeg, Manitoba)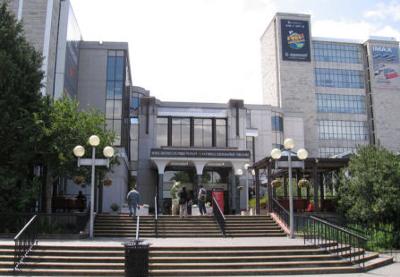 Front Entrance to the Royal BC Museum
Victoria, BC, is a great family destination. My favorite tourist activity in Victoria is the Royal BC Museum. It's a great place for any ages – everyone will find something to enjoy here.

They have a great IMAX theater, too. The museum exhibits cover all aspects of Canadian history, with a focus on First Peoples and Natural History. I especially enjoyed the First Peoples exhibit because most American museums tend to gloss over tribal differences, whereas Canadian museums (I've found this true all across Canada) really showcase native culture.

If you go out of town for a nature tour and don't get to see any wildlife, you can at the very least view the museum's dioramas!

The Royal BC Museum is in a great location – right near the center of town and in close proximity to shopping. Once you're done with the exhibits, stroll along the promenade and view the boats in dock.

Across the street is the famous Empress Hotel. The flowers in their garden are amazing. If you have a chance, have high tea in their dining room!