Victoria BC Restaurants Directory
With so many Victoria BC restaurants available, choosing a favorite restaurant in Victoria BC will be a CHALLENGE!
One of the GREAT advantages of being on vacation is EATING. There are no calories, nor fats and all the food is actually good for you, right? Well, there are fantasy vacations...
There are many tasty places to eat in Victoria, as well as the wonderful afternoon teas which are common in many hotels (check out the Fairmont Empress).
Every restaurant owner, manager & staff member is pleased to share information about what makes their Victoria BC restaurants so special.
Victoria restaurants have something special and different to offer for everyone who visits, no matter if it is your first visit or if you are a frequent visitor... and regardless of the season of the year. So putting this page together was almost effortless, given the choices in Victoria BC restaurants.
When choosing a restaurant in Victoria BC, you need to know what you want... fine dining OR casual dining OR just plain old fast food? (Or something in between... like afternoon tea at the Fairmont Empress?)
Our Top Choices for Victoria BC Restaurants
The Marina Restaurant
1327 Beach Drive, Victoria BC
(250) 598-8555
This where the locals go. Great seafood is at the top of my list of indulgences and they just nail it. And the views are outrageous. The BEST part, is you get to visit again for Sunday brunch and then again for some of the best Sushi in town! More fine dining restaurants...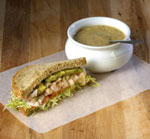 Sam's Deli
805 Government St, Victoria BC
(250) 382-8424
Again, this is a local favorite. You have 2 choices with this restaurant. Eat a great bowl of soup or chili on their patio or grab one of the best (and BIGGEST) sandwiches in town and stroll through the Inner Harbour. Again, I can still get my seafood fix (check out the shrimp and avocado sandwich. See more casual dining options...
Enough About Us! What Are Your Favorites?
We told you our top 2 Victoria dining spots. But what do you think? Where have you eaten in the past that you would recommend to future visitors of Victoria B.C.?
We love to get reader reviews, so if you have one to make, then please visit our Restaurant Recommendations & Reviews page to leave your own or read others' reviews.
Obviously, unless you plan to be with us for many months, you'll only be able to sample a small portion of the Victoria BC restaurants... but that just gives you lots of motivation to come back for another visit!
Bon appetit...