Fairmont Empress Hotel
Victoria BC
The Jewel of Victoria British Columbia
The stunning Fairmont Empress Hotel in Victoria BC reigns regally over Victoria's Inner Harbor and is a favorite lodging spot in our fair city.
Translate this webpage.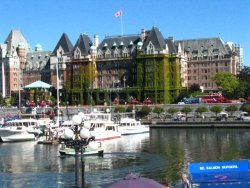 Turn-of-the-century architecture, grandeur and elegance mark this distinctive lodging facility, which is fully equipped for today's travelers, whoever they might be.
One of the attractions of this grand hotel is its history. It's been one of the premier hotels in Victoria for nearly a century. Built in the Edwardian style, the Fairmont Empress Hotel Victoria BC has 477 rooms.
They offer all of the usual amenities and then some. Some reviews report tired or worn decor, but if you do your homework and request that ocean view, you should be fine.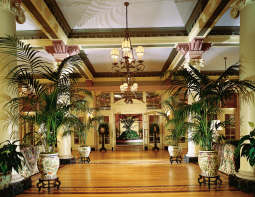 One of their most popular attractions is their afternoon tea... they serve 130,000 people annually!
Read a review of their high tea here
Over the decades, the Fairmont Empress Hotel in Victoria BC has played host to many dignitaries, famous actors and actresses, politicians and even a few ghosts.
For more information, you may want to view and print their handy fact sheet.
In short, if you wish to stay in luxury lodgings rich in history, close to all of the Victoria attractions, and beautiful to behold, you could do worse than book your stay at the Fairmont Empress Hotel in Victoria BC!
Fairmont Empress Hotel
721 Government Street
Victoria, British Columbia
V8W 1W5
250-384-8111 Phone
250-389-2727 (tea/dining reservations) Alt. Phone
250-381-4334 Fax
800-441-1414 (reservations) Toll-free
http://www.fairmont.com/empress
emp.reservations@fairmont.com
---
Top of Fairmont Empress Hotel Victoria BC page