Victoria BC Campgrounds Directory
Victoria BC campgrounds are like no other... views of the sparkling sea, close to Victoria attractions, and more. Camping in Victoria and on Vancouver Island is unsurpassed!
If you love getting closer to nature and don't crave luxury, then camping in our area may be just right for you, especially if you have a family.
General Tips on Choosing a Campground
When choosing a campsite, look for things like cooking facilities, lighting for camping, tents, camping in the rain, bedding for camping, campfires and carefully dealing with insects, wild animals and your waste when camping. 
Contact the local Tourism office (#1 Centennial Square - Victoria, BC V8W 1P6, Phone Number: (250) 385-5711 and they can advise you on the best campsites at that particular time of year. 
Campfire regulations very from region to region and from season to season. During the summer, forest fires are a very real danger and are frequently banned in dryer areas. For more information about regulations, contact  the BC Forest Service Fire Information Line at 1-888-336-7378.
Always check with local Tourist Info Centers, as local regulations supersede those of the Ministry of Forests.
Victoria Area Campgrounds
If you'd like to try camping in Victoria, here are a couple of the local RV parks: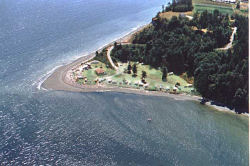 Beachcomber RV Park
3290 Campion Rd.
Victoria, BC V8M 1W7
Phone Number: (250) 652-3800
www.BeachcomberRV.com

Malahat Mountain Meadows RV Park
304 Trans Canada Hwy
Malahat, BC
Phone Number: (250) 478-5452
Toll Free: 1-888-478-5452
www.VictoriaCampgrounds.com

For Victoria RV Park & Campground
340 Old Island Highway 1A
Victoria, B.C., Canada
Phone Number: 250-479-8112
www.fortvictoria.ca

Or search for more Victoria BC campgrounds below:
---
Top of Victoria BC Campgrounds page