Strathcona Hotel Review in Victoria
by Jim
(Calgary, Alberta)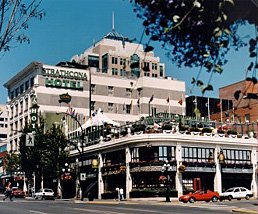 The Strathcona Hotel
Although certainly neither luxurious nor quaint, the Strathcona Hotel in downtown Victoria is extremely convenient and quite inexpensive, especially in the off-season.

Located jut behind the Hotel Empress, the Strathcona is close to the Royal B.C. Museum, the Inner Harbour, and other famous Victoria attractions and restaurants.

Admittedly, the Strathcona has probably seen better days and perhaps lacks the charm for which Victoria is noted. The rooms are rather small and the walls are quite thin, but overall the hotel is clean and well-maintained.

A complimentary continental buffet breakfast of fruit, muffins, cereal, and juice is served in the downstairs pub in the morning. Because the Strath is also home to five rather colorful pubs, including a seasonal rooftop bar, the hotel can be rather noisy and rowdy at times.

The management at this family run establishment is very vigilant, but it is a good idea to ask for a quiet room.