Historical Sites in Victoria BC
by Betty
(Victoria, BC)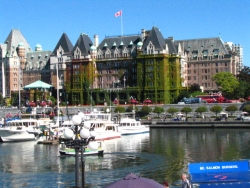 The Empress Hotel
When you travel to Victoria, BC, you'll have a wide range of historical sites to visit and enjoy. If you're looking for a trip steeped in the ethos of the past, book a reservation at the Empress Hotel, where you can enjoy afternoon tea with crumpets and scones in an Edwardian-style setting.


You'll savor the peaceful atmosphere of the hotel's main lobby, which has played host to Shirley Temple, Katharine Hepburn, and Harrison Ford. To attend the tea, which is served on a genuine silver tea service, you'll need to conform to the dress code: short shorts and tank tops are forbidden. You'll also need to make a reservation a week or two in advance, by calling the hotel directly.

When you're finished with your tea, continue the historical theme of your afternoon by visiting the Parliament Buildings, home of the Legislative Assembly of British Columbia.

Before your trip, you can download a handy PDF guide to the building, explaining the phases of its history and construction. Then, you'll be able to follow the building tour laid out in the document, which also provides information on the grounds and the history of the land after the Fraser River gold rush of 1858.

If you time your visit properly, you'll be able to attend the annual Symphony Splash concert on the main lawn as you finish your tour. It's the perfect ending to a day of historical exploration in British Columbia.