Eagle Wing Whale Watch Review
by Connie
(San Francisco, CA)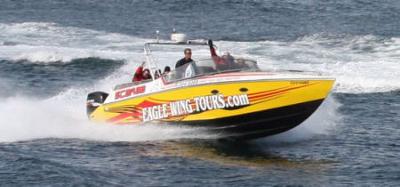 Eagle Wing Whale Watch Cigarette Boat
As far as activities go, I would say the high point on our visit to Victoria was the Eagle Wing Whale Watch. We had been on a whale watch on Cape Cod and the boat was so packed, it really took away from the experience.

This trip only had 12 passengers and that really made viewing the whales so much easier, not to mention maneuvering around the boat. Eagle Wing Tours offers two cigarette type boats that are super powerful and travel at 60 miles an hour.

Eagle Wing guarantees whale sightings and they don't bring you back until they find some. The day we went, there were no whales in our local waters, so they took us over to the San Juan Islands off the US coast... and did we see whales! 70+ whales, in fact.

The staff are friendly, professional, and knowledgeable. It was truly a day we will never forget!