Abigail's Hotel in Victoria BC - Review
by Connie
(San Francisco, CA)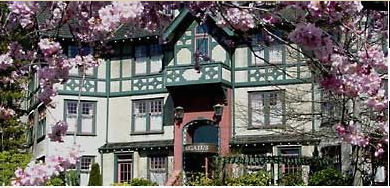 The Charming Abigail's Hotel
Highlights of a short trip to Victoria, BC... On a recommendation from friends, we stayed at Abigail's Hotel. Talk about a hidden treasure! This hotel is a beautiful little jewel at a reasonable price.

We chose a lovely room with a fireplace, which we enjoyed every night. The hotel is so cozy and staff so welcoming, I cannot imagine choosing one of the large, generic chains. They are not only efficient, but really give you the impression that they care about the guests.

They also provide lovely touches like candles and cookies. As comfy as the rooms are, we found we didn't want to sleep in too long because the food is exceptional and we couldn't wait to get to breakfast.

The chef makes fabulous creations. The baked goods are all from scratch, the frittatas are the best I ever had, and until this stay, I had never even heard of almond syrup. To DIE for!

I can't recommend Abigail's Hotel enough... try it!